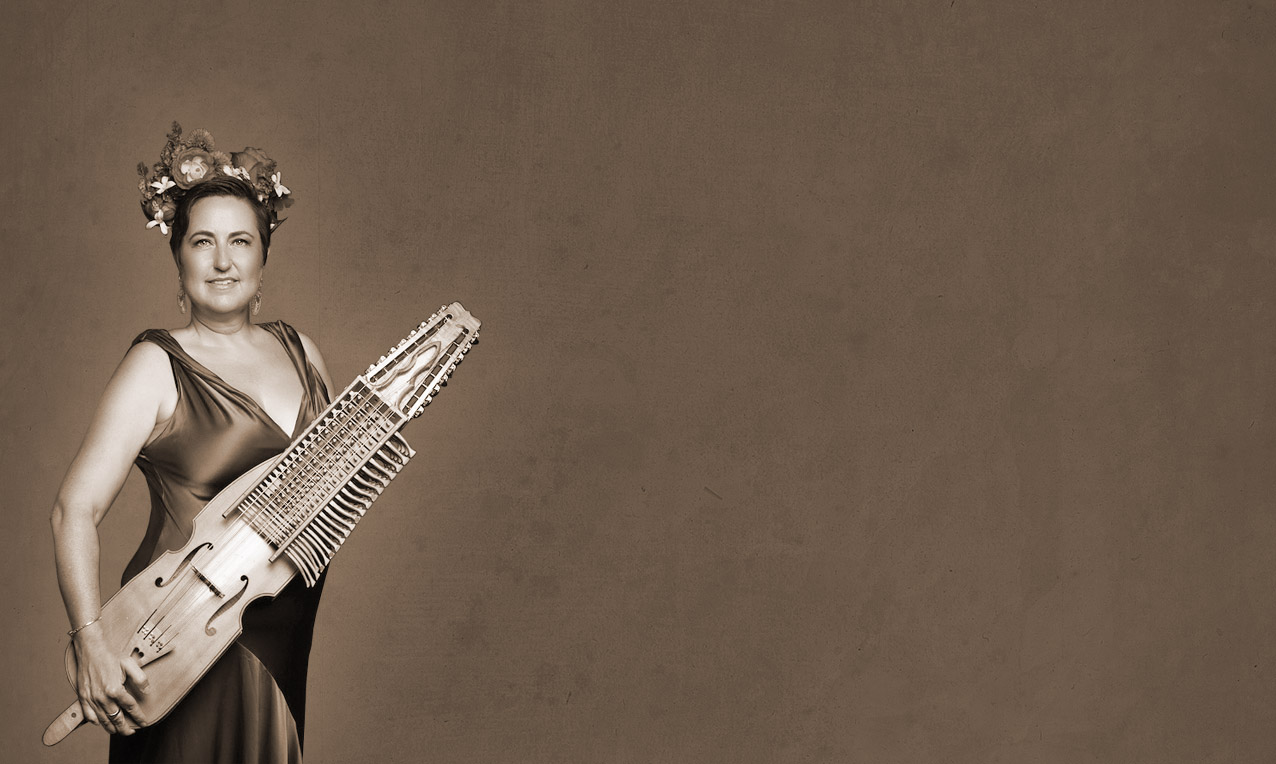 Sue Ferrers
Sue Ferrers plays the hauntingly beautiful but rare Swedish nyckelharpa, or keyed-fiddle, an instrument dating back to the Middle Ages. She learned and honed the craft of playing nyckelharpa while living in Germany where she worked as a freelance musician,
playing everything from intimate concerts in church settings to Gothic Rock in sold-out stadiums. Back in Queensland, Sue has teamed up with former Natives of Bedlam guitarist, Evan Clarry and bass-player Bob Harley (Funky Miracle, Sunset Junk) to bring an eclectic mix of European folk melodies in new clothes, taking the audience on a magic carpet ride to exotic, faraway lands of times gone by. An experience not to be missed! News & Music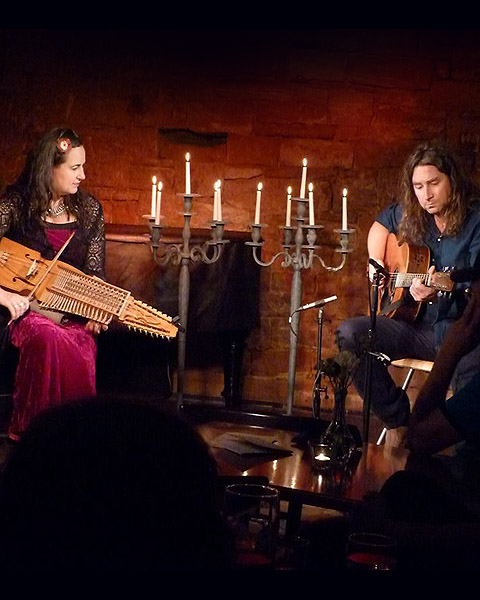 Nyckelharpa Concert
The unique sound of the nyckelharpa played in historic and / or candlelit rooms, together with enchanting instrumental melodies from Irish, Spanish and Swedish tradtions as well as tunes of old forgotten times, Sue creates, together with Evan Clarry on guitar, and Robert Harley on double bass, magical moments that transform the listener to faraway, exotic lands.

Concert on Youtube: LINK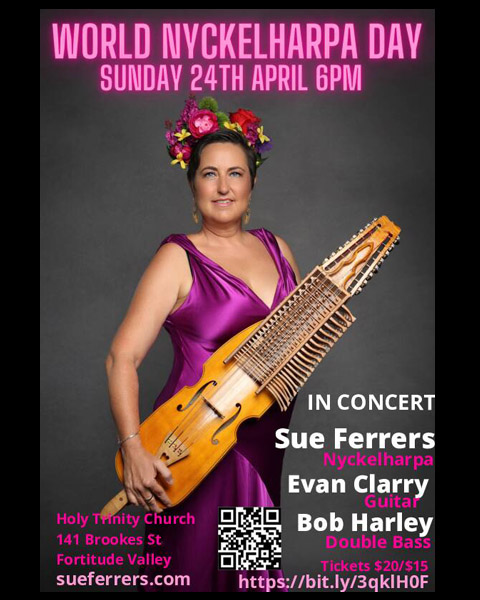 World Nyckelharpa Day
It was a lovely concert with my comrades Bob Harley and Evan Clarry.

You can find even more music and information about my past concerts here: LINK
AFMA Finalist
So honoured to be a finalist in the category of Instrumentalist of the Year.!!
The AFMAs are a project of Folk Alliance Australia www.folkalliance.org.au established to recognize and celebrate the musical and cultural talent, vibrancy, diversity and community nature of the Australian Folk Music sector. Folk Alliance Australia (FAA) is a not-for-profit incorporated organization.
Watch the Awards here.


More infos at folkalliance
Watch
Mo
Upcoming Concerts
Friday to Sunday 10-12th November
MALENY FOLK FESTIVAL
Maleny Racecourse, Maleny QLD 4552
with Evan Clarry, guitar and Bob Harley, double bass
Friday to Sunday 19-21st January 2024
ILLAWARRA FOLK FESTIVAL
Bulli Showground, Woollongong NSW
with Evan Clarry, guitar and Chris Miller, double bass
Nyckelharpa?
What could that possibly be?
Isn't Nyckel a type of rabbit? And then crossed with a harp?? What??

The Nyckelharpa is a bowed string instrument with 16 strings, four of which are bowed and 12 which resonate. It is sometimes known as a keyed fiddle (Schlüssel-fidel) and is a traditional Swedish folk instrument. It has a number of keys that are pressed in an upwards direction that stops the string.
The Nyckelharpa is played usually horizontally across the body held by a neck strap similar to the guitar, and held stable by the right arm. The bow is then stroked vertically up and down. The bow is much shorter than the violin bow and has many different forms: round or pointy tip. It is sometimes referred to as a cross between a violin, a guitar and a typewriter!
It is not exactly known how old the Nyckelharpa is but it can be found in church painting dating to around 1350 in Gotland. There are also early church paintings in Siena, Italy dating from around 1405. The Swedish province of Uppsala has had the only continuous tradition of Nyckelharpa playing since this time. In mainland Europe Nyckelharpa playing fell into obscurity.

Eric Sahlström (1912 – 1986) was an important figure in the resurrgence of popularity of the nyckelharpa. He developed the chromatic three-row instrument that is in common use today and is able to play in any key. Sahlström's amazing playing virtuosity and incredible musicianship further developed the interest in this instrument. He also composed many folk tunes including Spelmansglädje ("Fiddler Joy") and the polskas Stormyren and Hardrevt.
Current modern groups that include the Nyckelharpa are Väsen (Olov Johansson) and Nordic (Erik Rykell) in Sweden, and in Germany Triskilian (Jule Bauer) and Poeta Magica (Holger Funke).

It is possible to study Nyckelharpa at the Royal College of Music in Stockholm and at the Eric Sahlström Institute in Tobo. Burg Fürsteneck bei Fulda offers a three year Certificate course in 6 3-day blocks. Also at Burg Fürsteneck is annually in October the International Days of the Nyckelharpa. Here Nyckelharpa-players from all over the world and of all different abilites, including absolute beginners, come together for workshops, jam-sessions and concerts: www.nyckelharpa.burg-fuersteneck.de . It is possible to hire an instrument there.

If you get the chance to experience the Nyckelharpa live, do it! It is a wonderfully warm and enchanting sounding instrument that takes you back to times of olde, a sonority unmatched by modern classical instruments.

Biography
studied from 1990 – 1993 at Queensland Conservatorium of Music, Australia majoring in violin with second instrument jazz violin.
in 1999 received Graduate Diploma of Education from University of New England, receiving highest grade in the teaching subject "Music".
published article in "Journal for the Talented and Gifted" in Australia.
violinist and backing-vocalist in the Australian Folk-Rock-Band Popproperly toured between 1997 and 2004 throughout Europa. With hundreds of performances – from Open-Air-Mega-Events to Unplugged-gigs in small stages in Holland, Belgium, Ireland, Denmark, Sweden, Finland und Germany – Sue presented herself as passionate performer, that grabs the audience by the ears and takes them on a musical adventure reflecting her own dedication and devotion to music.
lived in Germany from 2000 to 2021.
taught as a String Class teacher at Freien Musikschule in Rodgau, Musikschule Dietzenbach and the Heinrich-Böll-Schule in Rodgau
works as a freelance violinist and nyckelharpist, also collaborating with other musicians and artists, such as Sonja Kraushofer, Persephone, Goethes Erben, Janus, Wolf Schubert-K und Markus Rill.
teaches Instrumental Music – Strings for Department of Education Queensland at the Gold Coast
has played nyckelharpa, a medieval / Swedish instrument since 2010 and performs regularly with a guitarist and bassist. Her two CDs, "in the light of the moon" and "Embroidered Threads" are for this instrument.
was chosen in 2013 to take part in a European Union Project, ENCORE. The project was made up of 21 nyckelharpa players from all over Europe. Compositions were composed especially for this ensemble, which were intensively rehearsed for a week in Italy, culminating in a concert in the Cathedral of Bertinoro. This was broadcast on Deutschlandfunk.
translated Playing the Nyckelharpa by Jule Bauer and Tamburello by Katharina Dustmann from German to English.
performed for children in kindergartens and primary schools with her Concert: Sue's Super Singalong!
Music groups
Carousel (rockband) 1992-1993
Spice (rockband) 1993-1997
Natives of Bedlam (rockband) 1993-1995
Popproperly (rockband) 1996-2000
Aroha (folk duo) 2001-2020
Lilith 2004-2007
Can-Gurus 2006-2020
Goethes Erben 2013-2015
Persephone 2015-2021
Janus 2015, 2017
These Idle Hands 2022-
Sue Ferrers Trio 2022-
Discography
Spirit, Philip & Carousel 1993
Keep off the Grass, Natives of Bedlam 1994
Sleeptalking, Spice 1996
Assorted Flavours, Popproperly 1997
Faint Blue Glow, Popproperly 1998
Black & White Rainbow, Popproperly 1999
Rückkehr ins Niemandsland, Goethes Erben 2014
In the light of the moon, Sue Ferrers 2015
Ein Aufstand alter Männer, Janus 2015
Menschenstille, Goethes Erben 2016
Embroidered Threads, Sue Ferrers & Steffen Huther 2017
Free Spirit, Wolf Schubert-K. 2017
Perle, Persephone 2018
Soul Bullet, Robert Overbeck 2018
Contact:
Sue Ferrers
Gold Coast QLD 4215
AUSTRALIA

"Music expresses that which cannot be said and on which it is impossible to be silent"
Victor Hugo