WORLD NYCKELHARPA DAY
Back in Queensland, Sue has teamed up with former Natives of Bedlam guitarist, Evan Clarry, and bass-player Bob Harley (Funky Miracle, Sunset Junk) to bring an eclectic mix of European folk melodies in new clothes, taking the audience on a magic carpet ride to exotic, faraway lands of times gone by.

This concert is to celebrate WORLD NYCKELHARPA DAY

LINK
24 April 2023
---
NEW BAND: THESE IDLE HANDS
I have joined this amazing new band: These Idle Hands. It's a mix of alt-folk, contemporary acoustic. I love their sound.

Check it out here! LINK
---
I WAS IN THE PORTUGESE NATIONAL NEWSPAPER!
My concert appeared in Jornal de Notícias Magazin "Evasoes" as Tip of the Day. What a great honour, even though they spelt my name wrong
2017
---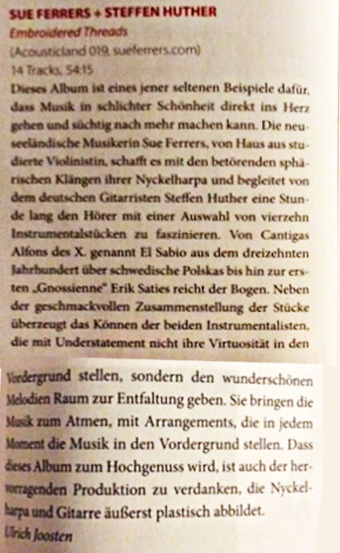 GREAT CD REVIEW
We got a great review of our new CD "Embroidered Threads" in Folker Magazin. Here's a translation:
This album is one of those rare examples of how music in its simple beauty can go straight to your heart and can make you yearning for more. The New Zealand musician Sue Ferrers, a studied violinist, manages to fascinate the listener with a selection of fourteen instrumental pieces for an hour, with the spellbinding, spherical sounds of her Nyckelharpa and accompanied by the German guitarist Steffen Huther. From Cantigas by Alfonso X called El Sabio from the thirteenth century, onto Swedish Polskas and to the first "Gnossienne" by Erik Satie completes the arc. In addition to the tasteful choice of the pieces, the ability of the two instrumentalists is convincing. They do not put their virtuosity in the foreground, but rather with understatement give the beautiful melodies room to unfold. They bring the music to breathe, with arrangements that always put the music in the foreground. The fact that this album is a real pleasure is also due to the excellent production, which depicts nyckelharpa and guitar in an extremely vibrant way.
---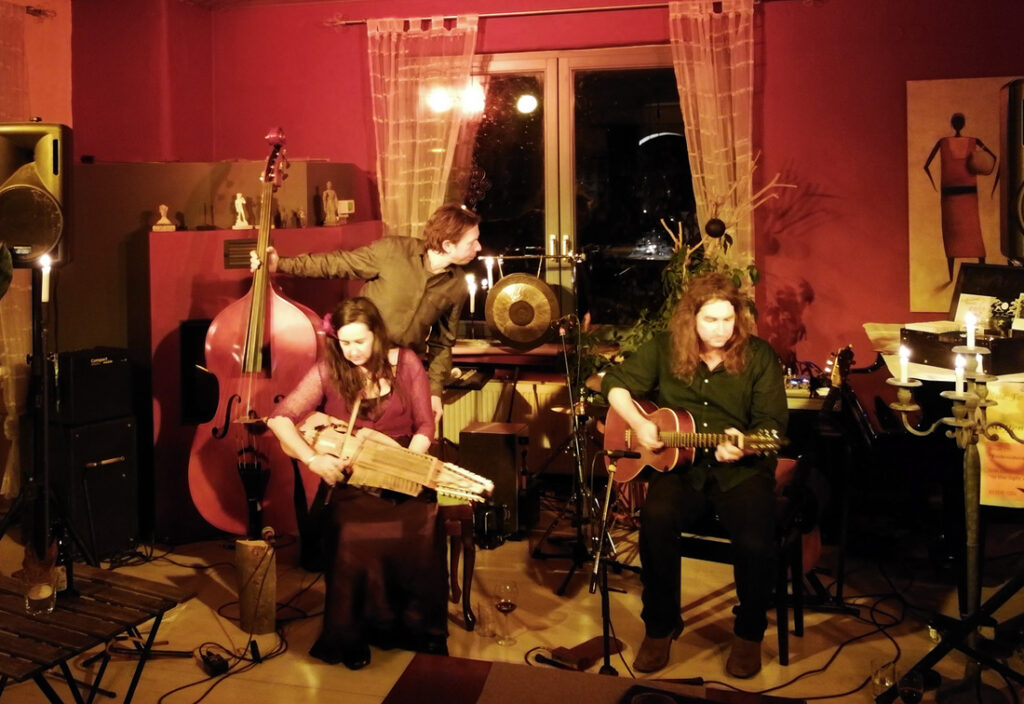 CD RELEASE AT KURHAUS, HEUBACH
It was a wonderful evening in the Kurhaus in Heubach to release our new CD "Embroidered Threads". Our label (acousticland) boss, Stefan Scheid, also does wonders in the kitchen, and provided a fantastic buffet. We were joined on stage by Michael Gambacurta on Percussion and Matten Boettius on Double Bass.
11 November 2017
---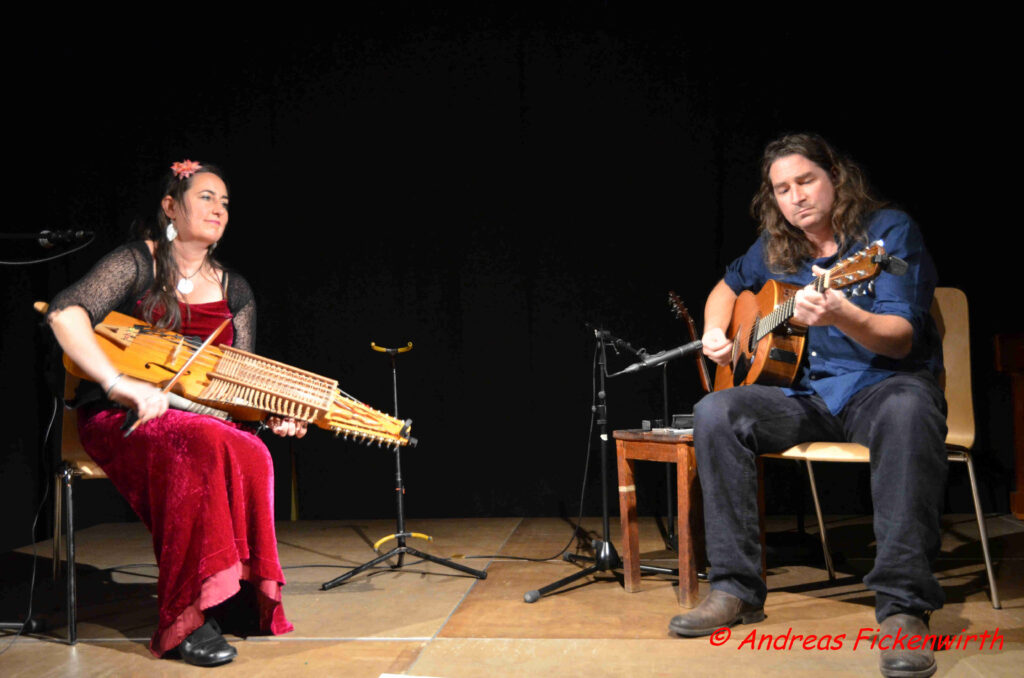 NYCKELHARPA CONCERT IN FRAUENKULTUR, LEIPZIG
29 October 2017
---
WITH JANUS IN GEWANDHAUS LEIPZIG
It was an absolutely amazing honour to play in the famous Mendelssohn Saal in the Gewandhaus in Leipzig. It was a sold out audience, and we played completely unplugged. What an unbelievable acoustic in there!! Photos by Claudia Helmert. 27 October 2017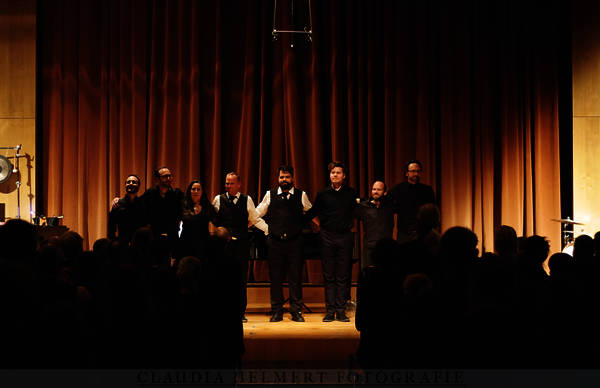 ---
BEAUTIFUL EXPERIENCE LANGSMÜHLE
It is always a beautiful experience to play between the old walls of the Langsmühle. Our guests this year were Ian Kimber on Vocals and electric bass, Matten Boetius on Double Bass and Michael Gambacurta on Percussion. There was a nice article about the concert in the Offenbach Post.
09 September 2017
---
OUR NEW CD HAS ARRIVED! "EMBROIDERED THREADS"
We recorded, mixed, mastered and packaged our new CD "Embroidered Threads" for Nyckelharpa and Guitar. There are two guest musicians playing too: Matten Boetius on Double Bass and Michael Gambacurta on Percussion. Here's the track list:

Cantiga de Santa Maria 142
Zakarias Jannsons Polska
God rest ye merry gentlemen, Pavane 4. Polska efter Byss-Kalle
Ed dodium
The Serra of Visions
Gnossienne No. 1
Naïveté
Cantiga de Santa Maria 167: Quen quér que na Virgen fía
Sword Dance
Cantiga de Santa Maria 353: Quen a omagen da Virgen & Cantiga 77: Da que Déus mamou o leite do séu peito
Stenselepolskan
Angela goes to the fields
Hälleforsnäsarn
---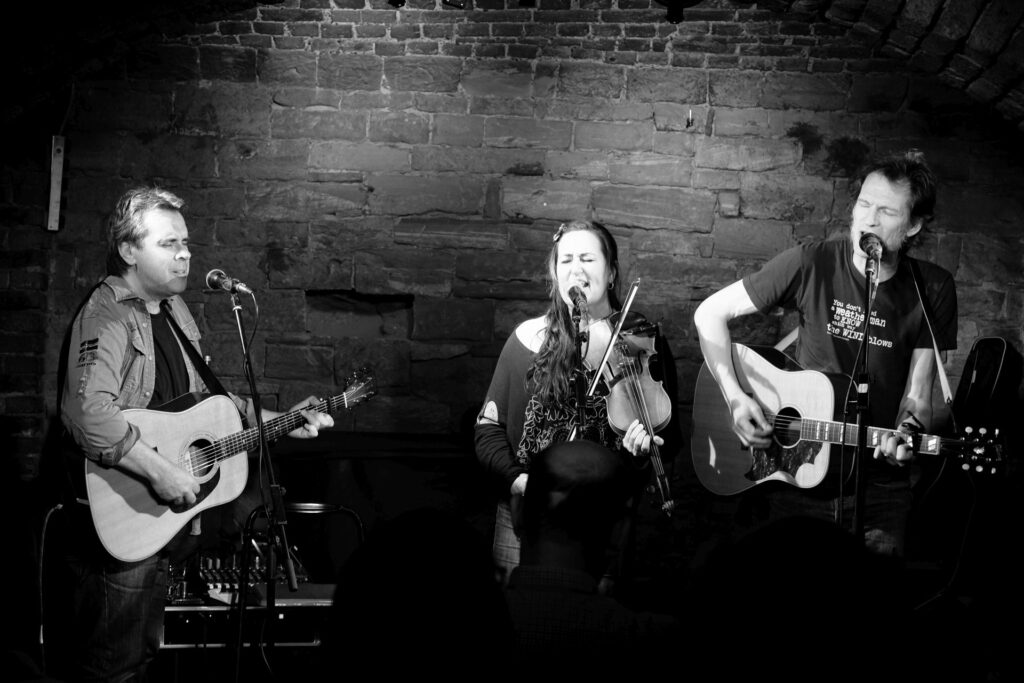 RECORDING WITH WOLF SCHUBERT-K
I recorded with the Germanicana Singer/Songwriter Wolf Schubert-K. this year. Here is a "Making Of" Video: LINK
August 2017
---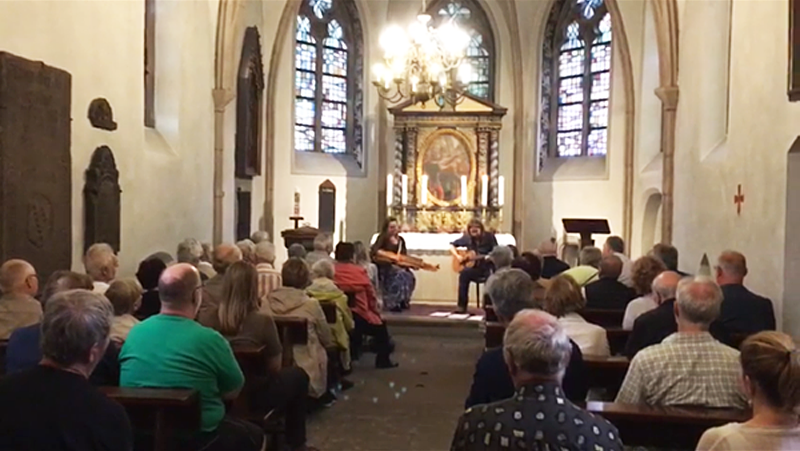 MUSICAL JOURNEY TO THE TIME OF LUTHER
Schlosskapelle, Schloss Strünkede, Herne on Sunday.

Video: LINK
23 July 2017
---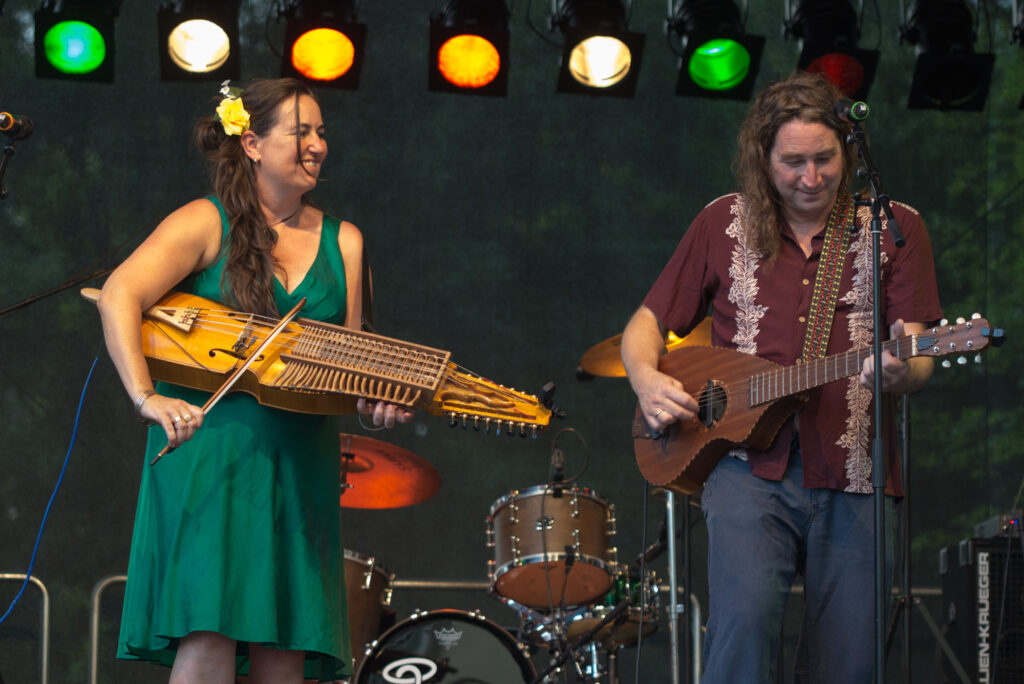 FOLK IM SCHLOSSHOF, HERNE
AROHA played at this years "Folk im Schlosshof" in Schloss Strünkede, Herne. It was a great evening, and we got to play a song together with Saltfishforty from the Orkney Islands: n. Video:LINK
22 July 2017
---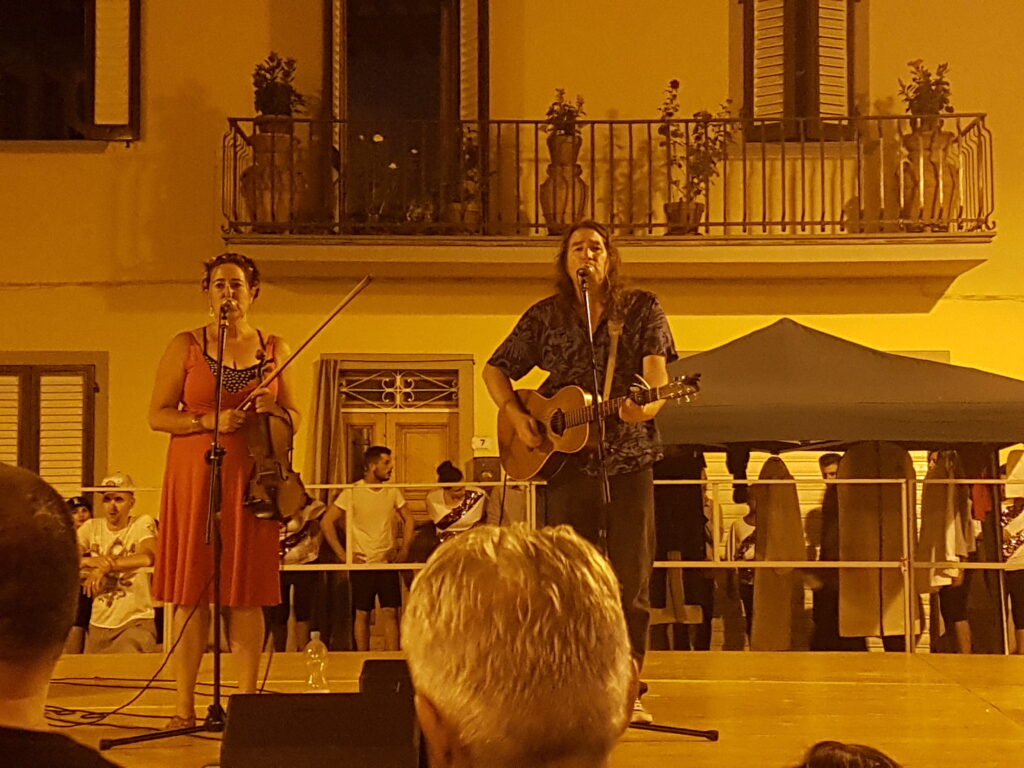 MINI TOUR TO ITALY
I have some Italian roots, so I was ecstatic this year to play in Italy. We were invited to play at an event in our sister city, Lastra e Signa near Florence. The next day we played in a modern concrete church in Pontassieve. The sound of the nyckelharpa was amazing.
July 2017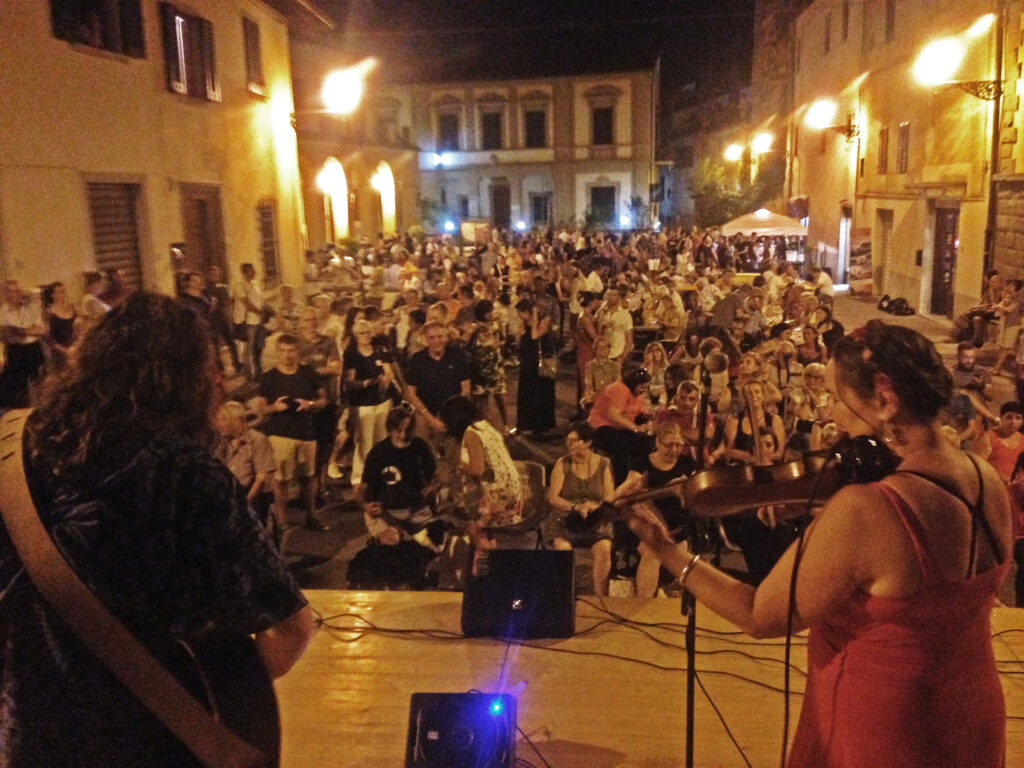 ---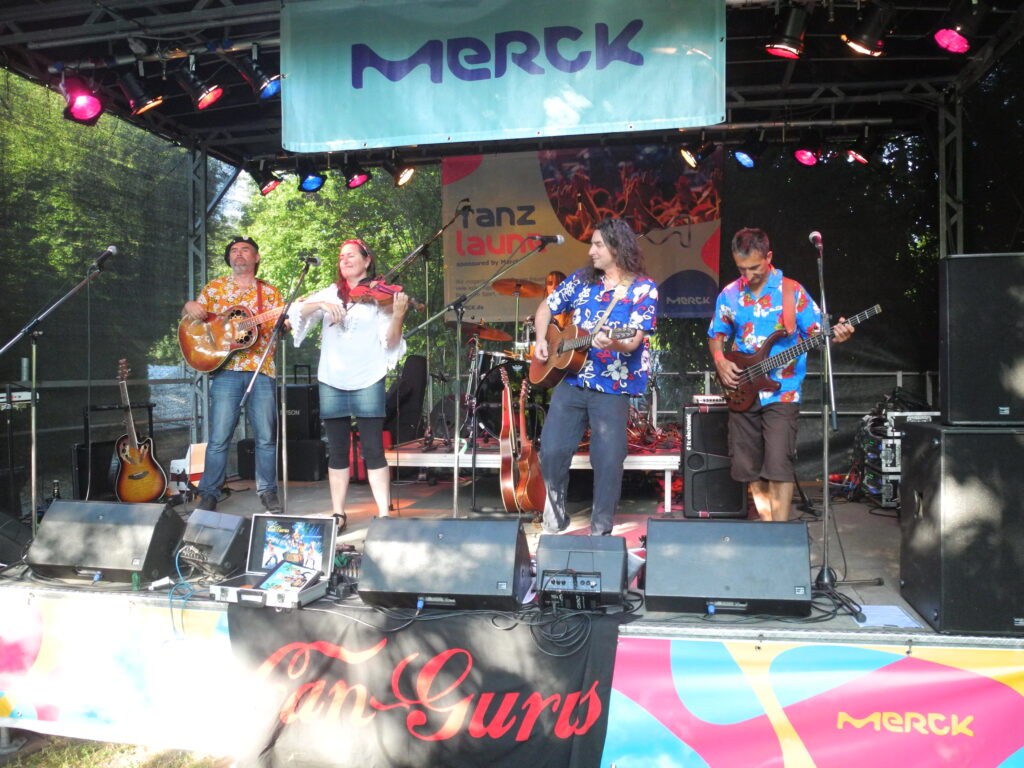 CAN-GURUS AT THE REINHEIM MUSIC DAYS
This year the Can-Gurus were a part of "Reinheim Musik Days" in Reinheim. Perfect weather, perfect location, great night!
June 2017
---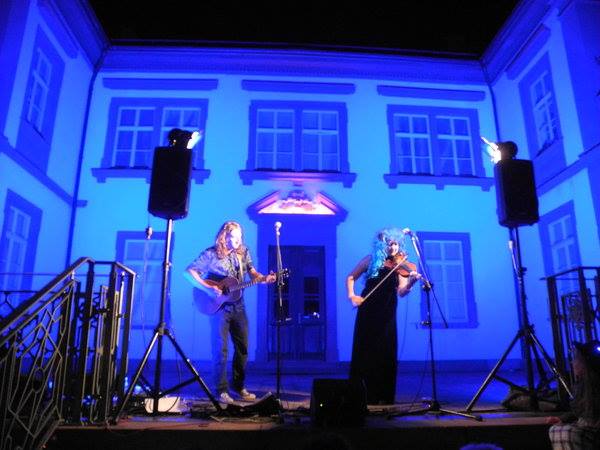 DIEBURG IN BLAU
Once again I played the Blue Fiddler at "Dieburg in Blau", but this year I played mini-concerts with AROHA on the the terrace of Schloss Fechenbach. And once again the weather was fantastic!
10. June 2017
---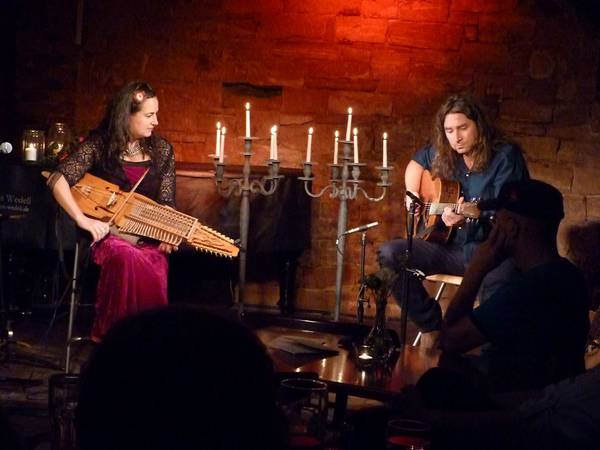 CONCERT IN DIE FABRIK
It was an absolute pleasure to play in the beautiful cellar of Die Fabrik on Thursday 8th June. Here is a video to watch: LINK
08. June 2017
---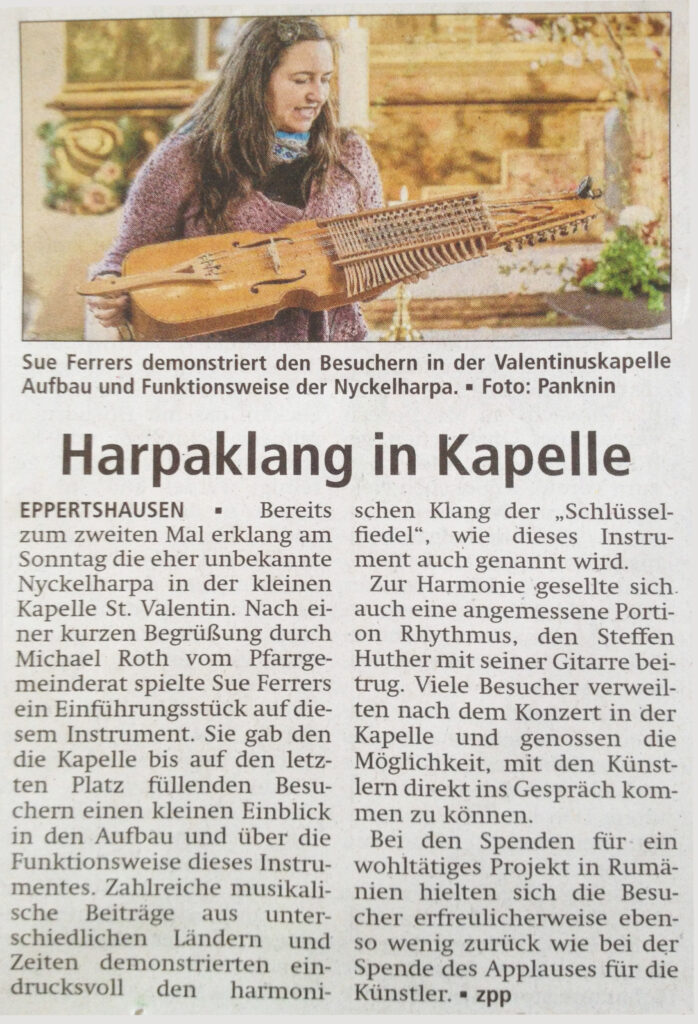 VALENTINUS CHAPEL, EPPERTSHAUSEN
It was really pleased to have the opportunity to play in the Valentinus Chapel that was built in 1440. Thanks go to Matthias Roth and Father Roper for the organisation and Peter Panknin for the great newspaper article. A huge THANK YOU goes to Günter Maier for the fantastic video: LINK
31 May 2017
---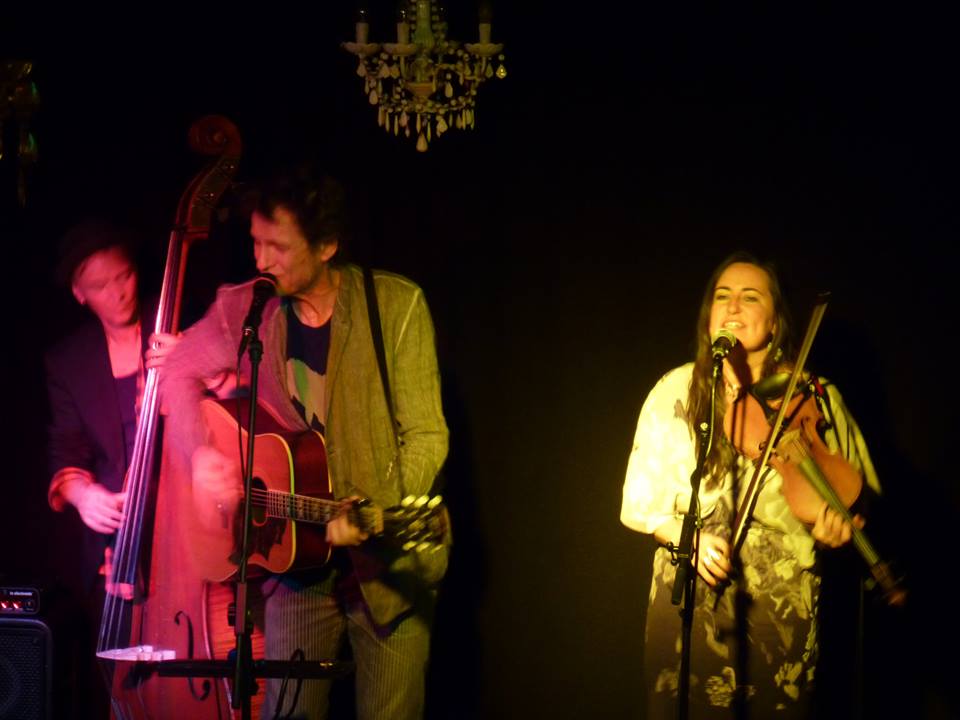 IN THE SALON, ELTVILLE WITH WOLF SCHUBERT-K
On Sunday evening March 12th I played with the great Germanicana singer-songwriter Wolf Schubert-K. Together with Willy Wagner on the double bass we had a lot of fun in the beautiful salon in Eltville. Biber Herrmann and Anja Sachs played the first part and after a delicious soup we were allowed to come on stage. The program was mixed, old traditionals like "Wayfaring Stranger" and also Schubert-K originals like "Free Spirit" and "Could it Be". I'm really looking forward to our upcoming gigs on May 1st in Walluf-Wiesbaden and on May 23rd in Die Fabrik.
23 May 2017
---
MINI-TOUR WITH THE LASSES
I had three gigs with The Lasses from Amsterdam, Holland here in Hessen. They pla yold American and British folk songs, where the fiddle fitted perfectly. Here you can see a video from the gig in Maximal, Rodgau: LINK
February 2017
---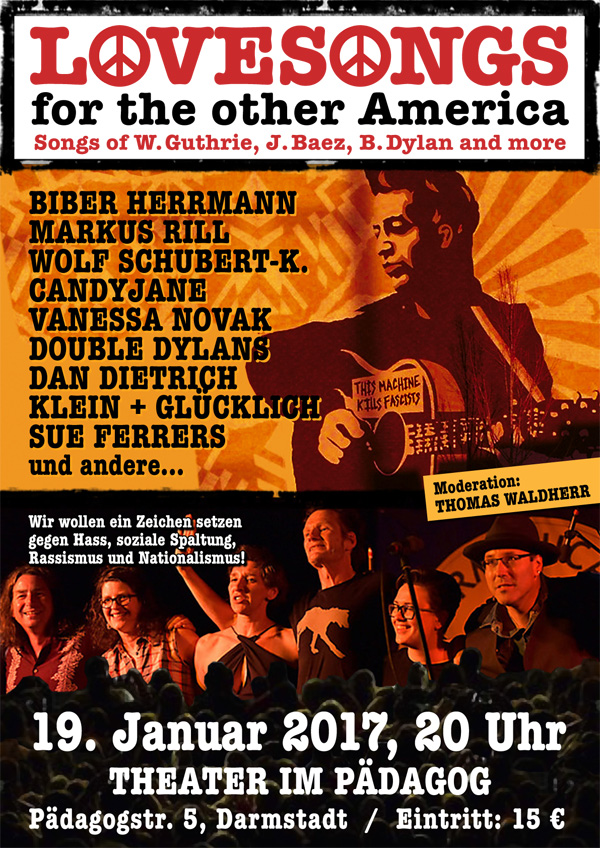 LOVE SONGS FOR THE OTHER AMERICA
On the eve of the inauguration of the 45th US President there was a concert for the "Other America". I played alongside great local musicians Candy Jane, Double Dylans, Jen Plater, Wolf Schubert-K, Markus Rill, Thomas Waldherr and Biber Herrmann. It was a great night of protest songs and the press liked it too!
19 January 2017
NEWS to download
---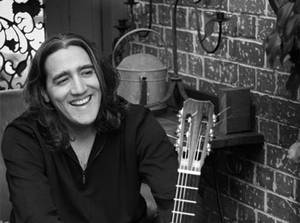 SOUNDS ACROSS OCEANS: IN CONCERT WITH ANTHONY GARCIA
SOUNDS ACROSS OCEANS in Germany
I'm happy to announce a special concert together with a Conservatorium colleague of mine, Anthony Garcia.

We will be performing for the first time, even though we live on different sides of the planet. Alongside composers such as Ortiz, Satie and Bach, Improvisations and original works by Garcia specially for this performance, we will be performing new interpretations of Sephard melodies.
"Sound Across Oceans" is a modern reflection of antique sounds, forms and styles.
09 November 2016
---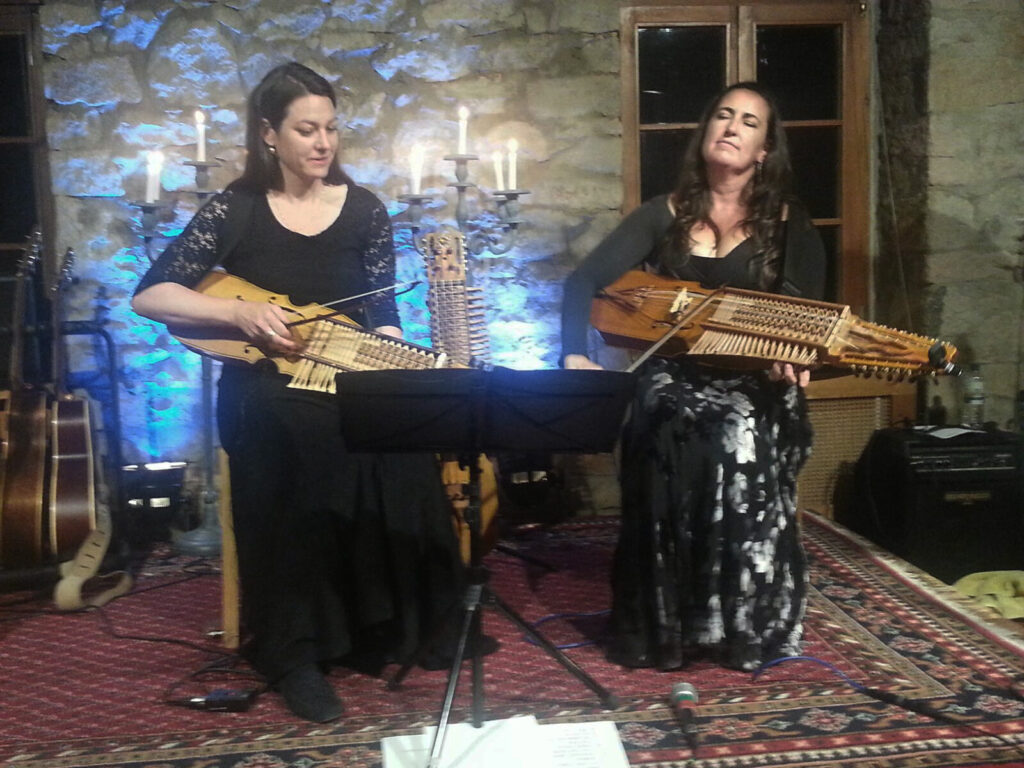 CONCERT IN THE LANGSMÜHLE
It was a nice evening with friends: Jule Bauer, Rolf Bussalb, ​​Ian Kimber, Klara Bussalb and Steffen Huther.
24.09.2016
---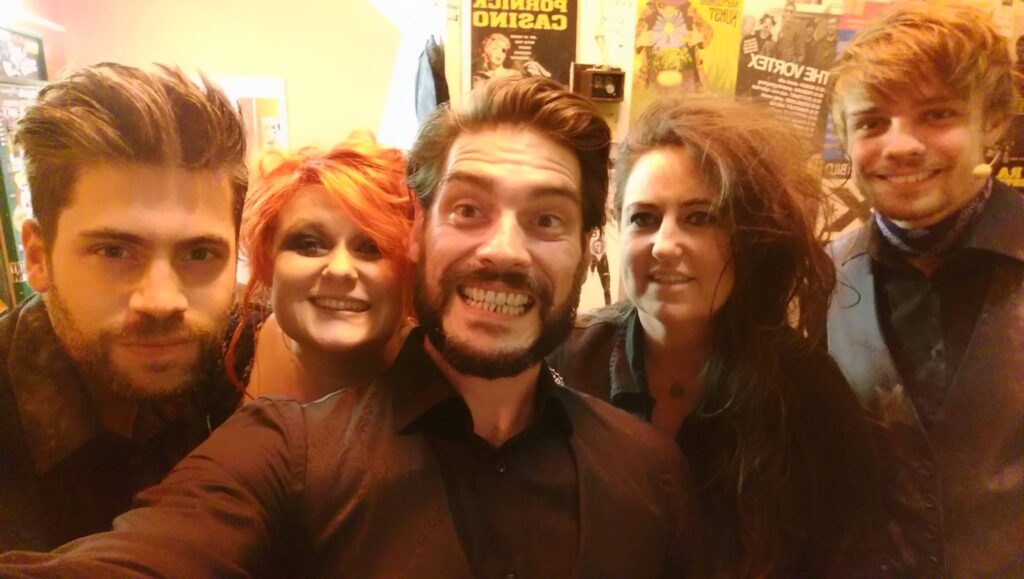 ---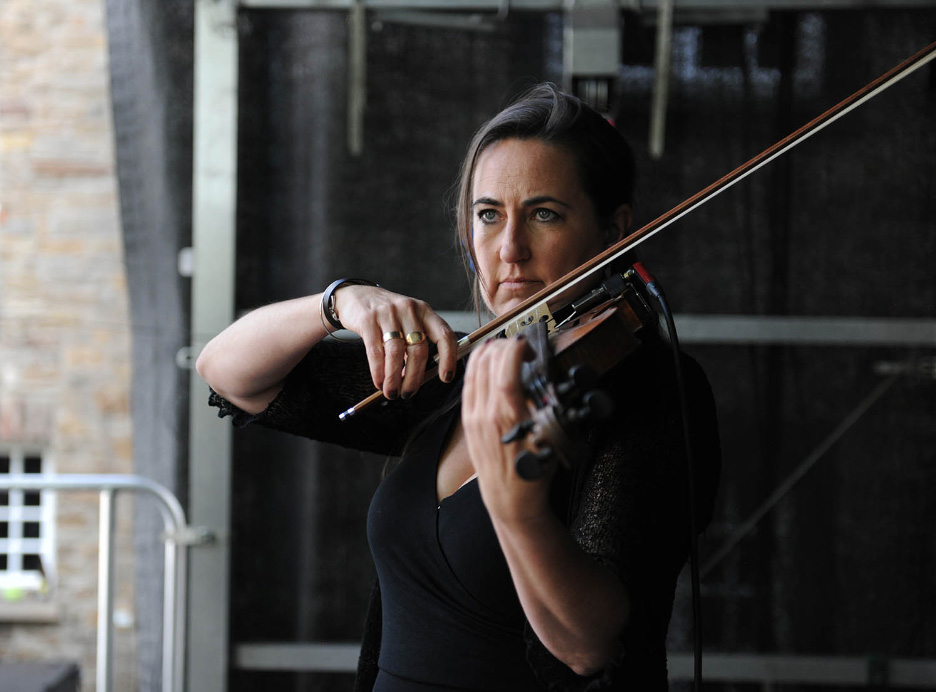 WITH JANUS IN BROICH CASTLE, MÜHLHEIM A.D. RUHR
I played with Janus at Schloss Broich for Castle Rock Open-Air. What an incredible location! And the weather was great! Here are photos of it.
2016
---
LEIPZIG SHOWS COURAGE WITH BEYOND THE BLACK
I played with the metal band, Beyond the Black, for "Leipzig Shows Courage" at the Rathausplatz on April 30th in Leipzig. It was an acoustic gig: vocals, keyboards, acoustic guitar, violin and cello. It was even broadcast on NDR television. It was so much fun playing metal!
30. April 2016
---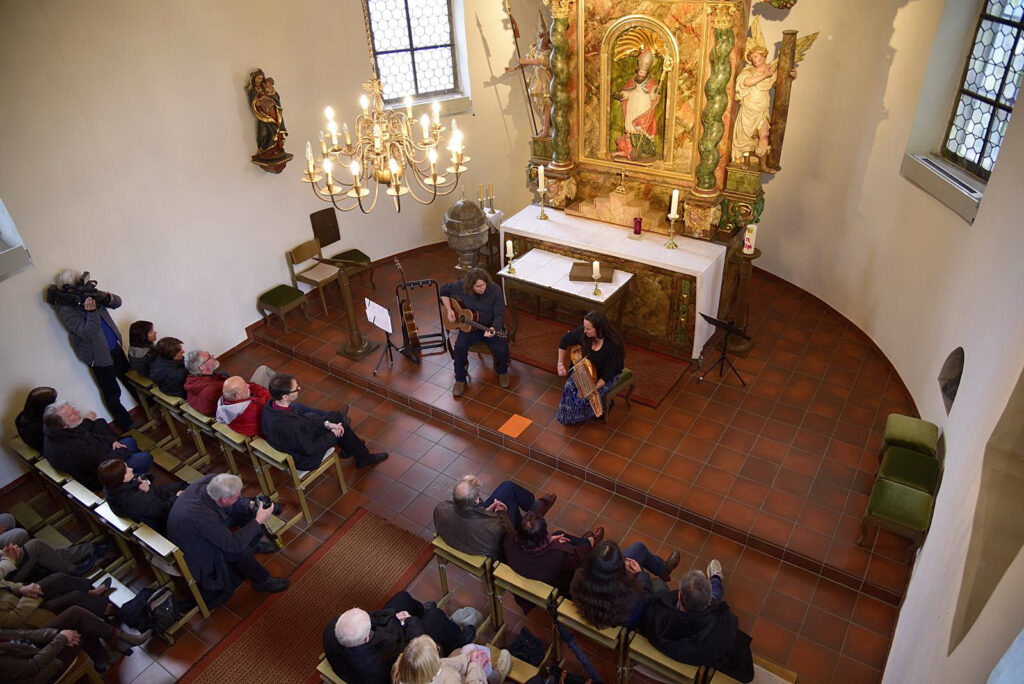 CONCERT IN THE VALENTINUS CHAPEL, EPPERTSHAUSEN
The Valentinus Chapel was built in 1438. What a great location to play a Nyckelharpa concert!

Here is a video from the concert. LINK
24. April 2016
---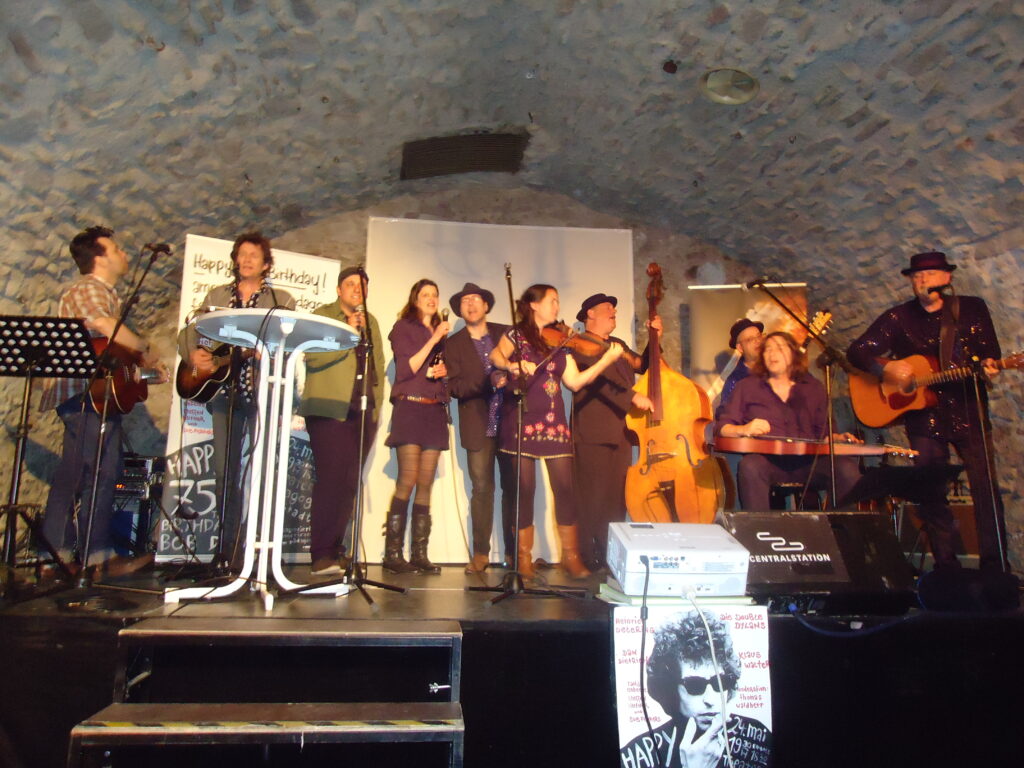 HAPPY 75TH BIRTHDAY BOB DYLAN!
On Wednesday 24th May I was fortunate to be invited to play in the Pädagogkeller in Darmstadt to celebrate the legendary Bob Dylan's 75th Birthday. I performed "All along the watchtower" with Steffen Huther and "Oh sister", "Little Sadie", "One more cup of coffee", and "Meet me in the morning" with Tanja Ebbecke and Steffen Huther. For the grand finale, together with the DoubleDylans, Markus Rill and Dan Dietrich, we finished the show with "I will be released". A reporter for the Darmstädter Echo wrote a nice review from the concert and called me a violin virtuoso!!!!
24. May 2016
---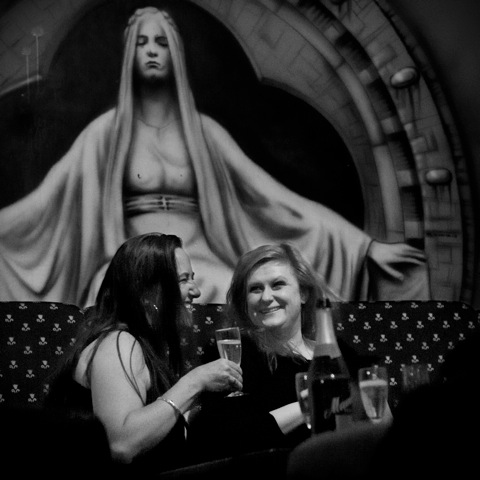 GOETHES ERBEN CINEMA PREMIERE
On Saturday 14th May in Leipzig the cinema version of our Goethes Erben concert "Menschenstille"was shown on the silver screen. It was a proud moment and great to see most of the Goethes Erben gang again.
And now the film is to be shown in Cologne at their Cinema Night!
Photo by Frank Z
14. May 2016
---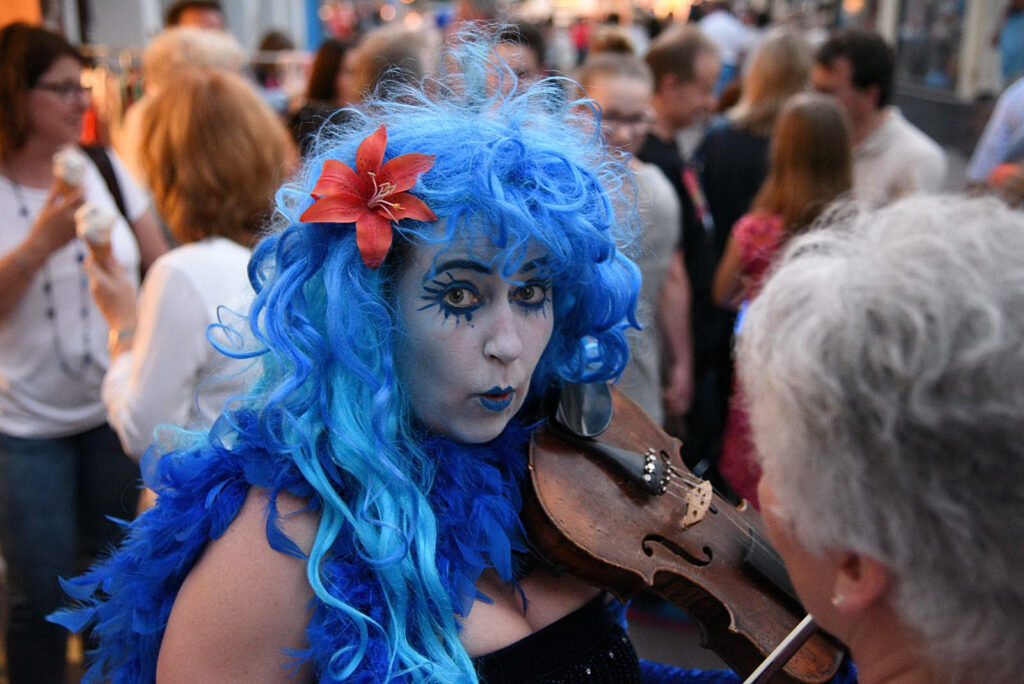 IT WAS ALL FUN AND GAMES IN "DIEBURG IN BLUE"
In Dieburg on the 6th June there was lots of craziness on this sultry Summer evening.

Photo by Oliver Avemarie
06. June 2015
---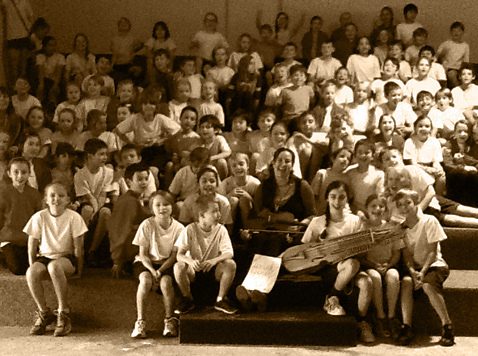 SILKWOOD SCHOOL, GOLD COAST, AUSTRALIEN
On Wednesday August 27th I gave a concert for the 3rd and 4th graders at Silkwood School, Gold Coast, Australia. All students learn a string instrument. I played various pieces on the violin, on the theme of the seasons I played "Spring" from The Four Seasons by Vivaldi, "Smoke on the Water" and asked the children which band it was from. I also played the Nyckelharpa. They found the sound particularly enchanting and asked many intelligent questions about it. A couple of children even tried it out. It was a wonderful afternoon and we all had a lot of fun together!
27. August 2014
---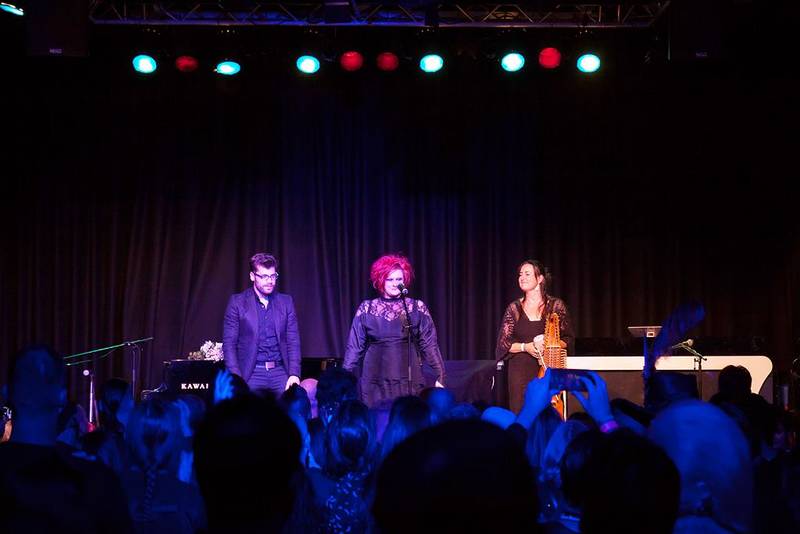 AMPHI FESTIVAL WITH PERSEPHONE AND SONJA KRAUSHOFER
I had the great pleasure of performing this year at the Amphi Festival in Cologne with Persephone at the Theaterstage am Tanzbrunnen from 17:30 to 18:30. Later that evening as part of the 10th Anniversary Celebrations of the festival I played Nyckelharpa with Sonja Kraushofer on the "Call the Ship 2 Night" event, with Andrè Wahl on piano.
27. Juli 2014
---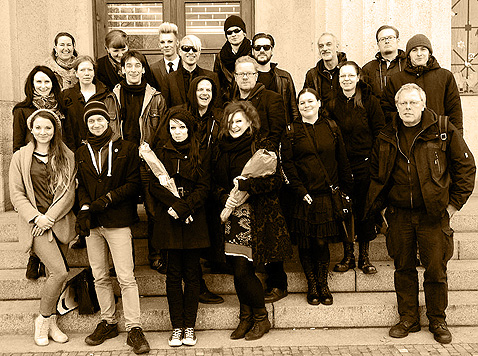 VOLKSPALAST LEIPZIG
The ensemble "Rückkehr ins Niemandsland" of Goethes Erben! There were two great concerts.
22. & 23. February 2014
---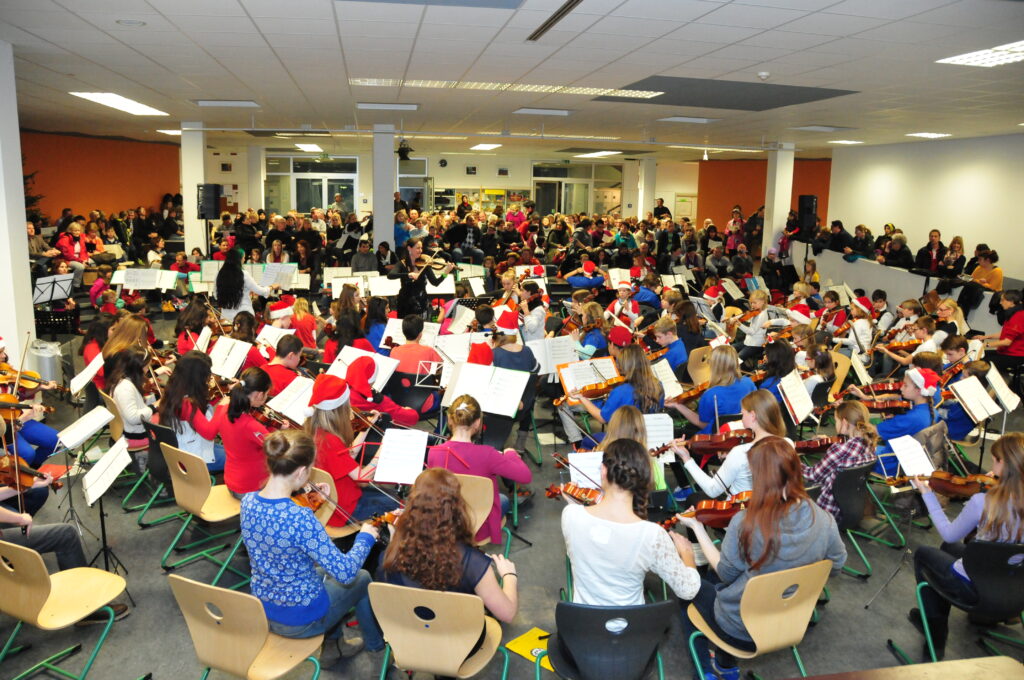 STUDENT CHRISTMAS CONCERT
My students and I were pleased to play a Christmas concert at the Heinrich-Böll-school. There were over 100 players being. VIVA LA STREICHER!!!
DEC 2013
---

ENCORE PROJECT
I was invited to play in the EU project, ENCORE. We were 24 Nyckelharpa players from 10 European countries. We gave a concert in Bertinoro Cathedral, Italy on August 10th.
10. August 2013